Collaborative Inspiration for growing entrepreneurs
Welcome!

CoInspire is the voice of the Women Entrepreneurship Centre (WEC). WEC's vision is to inspire the courage and passion to be different. To develop entrepreneurial capabilities in everyone - irrespective of age, academic, social and economic background.

WEC has a number of initiatives that develop confidence, creativity and competence in kids, youth and adults.

In particular, the "Live your dream" Workshop Series facilitates the process from start-up to real live business. CoInspire provides these participants a place to continue their business growth, expand their network, develop their knowledge, and give and get advice from a supportive community.
We believe in the power of unity.
We can achieve great heights when we are together.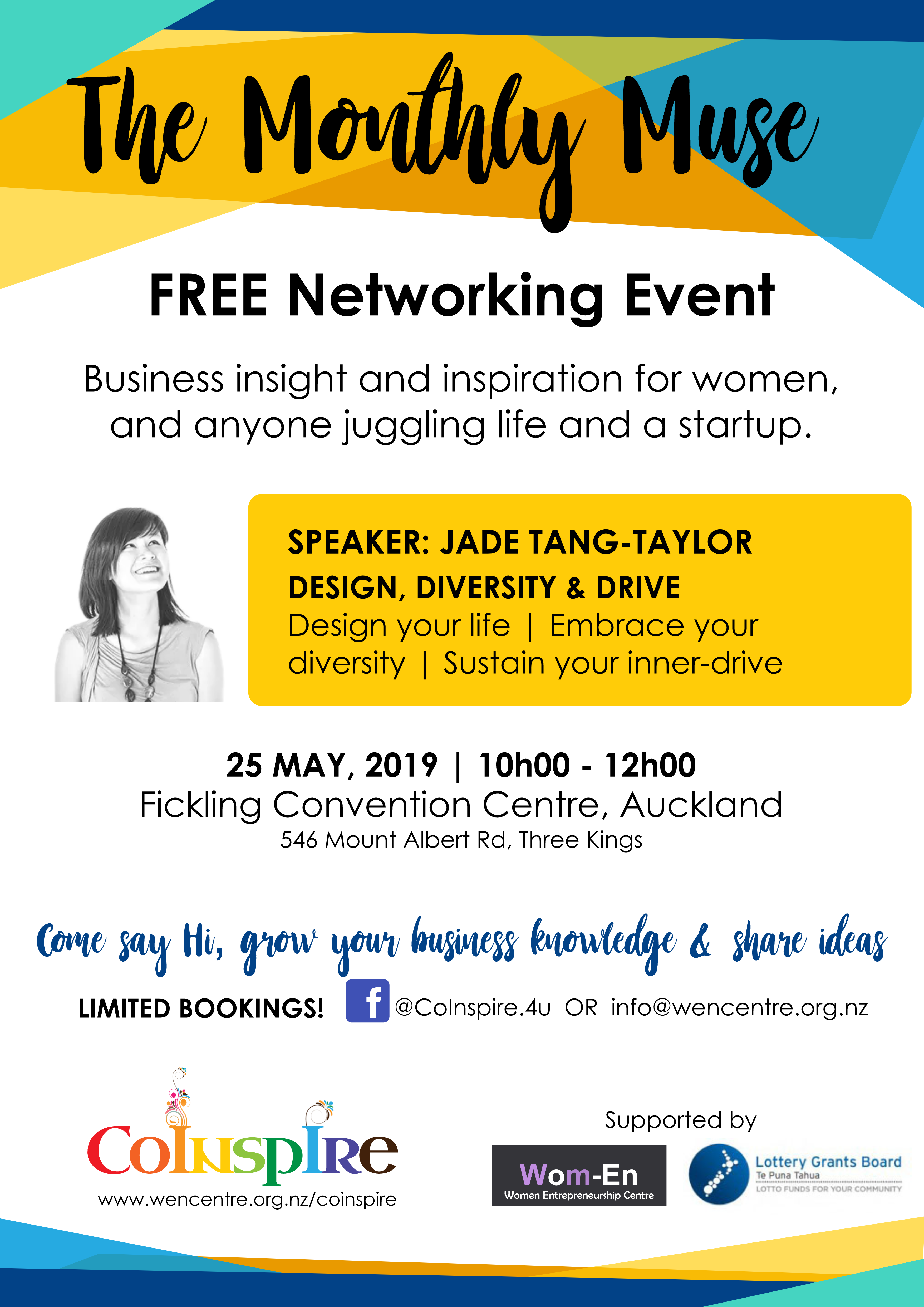 The Monthly Muse event – 25 May 2019
We are so excited to invite you to our Monthly Muse networking event!
The fascinating Jade Tang Taylor is our keynote speaker for the May event. Jade's topic is: DESIGN, DIVERSITY AND DRIVE. Design your life, embrace your diversity as a strength, and sustain your inner-drive.
Jade will share her journey of designing her dream life, and how it crumbled down. She'll tell us how she managed to find strength in her diversity, as well as the key points to consider when starting out a business. Jade will also tell us a bit about her current project: the Ethnic Diversity Strategy at Foundation North.
A new business owner will tell us all about their experience of the wild and wonderful entrepreneurial start-up world. Our inspired community of business owners are showcasing their products and services - so bring along a few dollars to browse their wares! We also invite you to leave a few of your own business cards on the Business Display Stand during the event.
Refreshments and parking are graciously provided by WEC sponsors.
The fabulous company is provided by YOU! Looking forward to a chat!
Attendance is FREE, but space is LIMITED!
Book YOUR seat now on our Facebook page CoInspire.4u or email us to inquire info@wencentre.org.nz